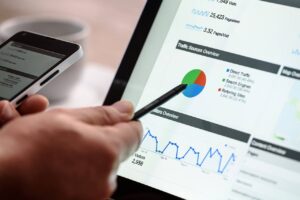 One of the biggest differences I see in companies is that many companies have a very different view on the idea of competition. Of course, every company wants to be better than their competitors, but what about employees being better than other employees?
Naturally, all employees want to be better than other employees. They want to make more money. They want more accolades. That's the human spirit. At Check Issuing, I'm for certain that I am the absolute best employee. I'm kidding. Maybe? The point is, we all want to be the best and that's absolutely fine. Monitoring competitors is priority one.
But should competition or teamwork be encouraged? Encouraging competition can be a great thing at your company. It gets people motivated and eager to work in a competitive market. Some companies do it through a reward system. Maybe it is one department vs. the other. Maybe it is one salesperson vs. another salesperson. It most certainly isn't unusual in its approach. You also should be competitive price monitoring regularly. We do regularly for our bank statement printing services.
The upside is that people are motivated to work. Competition brings out the enthusiasm in people. It causes them to feel motivated to win. People love to win.
The downside is that it can also bring out the worst in people. It can severely hamper ingenuity and evolution. When people compete, they tend to hide their own successful concepts. People will choose to conceal formulas which work to obtain new clients. They may even choose to lead other employees astray of good, quality strategies with the intention of gaining an upper-hand.
Competition is typical in companies with heavy sales. It might be where it fits best. I prefer a team environment, myself, with everyone sharing and contributing.
That is just our opinion, if you would like to voice your own please feel free to do so in the comment section of this blog.
Say Yes to the Check
I've been social media manager for Check Issuing now for a few years. All I can say is, what a great group of people and a better company that they are. And they are some fine looking people. If I were trapped in the foxhole fighting for my life, I'd hope that the Check Issuing crew were down there with me. I think we'd all take exquisite care of one another. And that's exactly how Check Issuing was built as a company. They take care of their own.
When you become a client with Check Issuing, you are more than a business relationship: you become a friend. Check Issuing will want to see your business succeed. Your success is our success. They take it personally. Business is full of ebbs and flows, which means having someone in your corner will always be useful.
Check Issuing prides itself in making sure that you are happy. They aren't going to show up to your home and give you a shave or anything, but if they did, you'd trust them with a razor at your neck. And yes, that was way overstating my point. I get it. But I just don't think most businesses understand the incredible potential of using a third party check disbursement company such as ours. It goes far beyond the amazing product. It comes down to the people. The relationships. Willingness to always evolve.
Check Issuing hears your needs and can provide solutions. All you have to do is call us and have a conversation. Tell us more about your business, your business goals and what services you need us to provide. We have a lot of long-term, happy customers. You can check them out here! We aren't a turn and burn business; we are a company that strives to create long-term relationships. We build for the future.
Call Us at 1.866.535.3954
How To Optimize On Virtual Software For Communications?
Maybe you have that one employee that works from home. Or maybe the entire company is subscribed to working from home and you don't even have an office. All the same, in today's world, it is unlikely that you haven't been exposed to remote workers. In addition, you've certainly had to deal with potential clients and customers or service providers who aren't located down the street from you. The list of reasons to be more virtual in your communications is endless.
But how prepared to go virtually are you and your people? If you suddenly needed to train an employee remotely, how prepared would you be? Of course, there is always the phone and it is no doubt a great solution for communicating ideas and concepts, but in this day and age, being able to translate your thoughts using screen shares and visual props goes a long way. Let's have a look at a few items you should really know in order to be the most optimal at virtual communications.
At Check Issuing, we rely heavily on Skype as a means of communications. With Skype, you also have the ability to share your screen, type and talk. This makes it a wonderful option for training someone by showing them your screen so they can follow along in the process as you talk. Skype is free to download and used by lots of companies so virtually everyone is familiar with it. You can put groups on Skype and do a screen share which allows you to train more than one person at a time. It's efficient and simple to use.
Google Hangouts, similar to Skype, is also a good way to communicate. Google Hangouts really focuses on group chats, both with text and video, making it a perfect conference calling solution. In order to be most effective with Google Hangouts, which is innately located inside your Gmail, you will need to get your appropriate browser's GChat extension.
Camtasia is good software for creating web tutorials. It can link to free storage services, such as Google Drive. You can make simple videos showing people how to do things, or even presenting a product, upload to Google Drive from the product, and send it out to whomever you are trying to train or entice. Although this isn't a real-time solution, everything doesn't have to be in real time and to be honest, sometimes you can think through things a bit better when you don't have a lot of people hanging on the line. This also allows clients or employees to watch the videos as many times as needed.
Screenleap.com is a great solution for straight up screen sharing. You can get a free hour a day of usage, past that you will be prompted to pay a fee. The software works great, it creates a web link for you to easily send others which is sharing your screen.
A final tip? Well, screen sharing is great, BUT don't forget to cut them off when you are finished because you don't want to be sharing your screen the rest of the day!
Questions To Ask Yourself About Small Business Payments
A small business owner is bound to ask him or herself a multitude of questions throughout the day. Should I try this marketing strategy or that one? Are my price points meeting customer expectations? What are my competitors doing? And many more. There are a few questions they should ask themselves about what they expect from their payroll process as well.
Should I Be Involved In The Payroll Process?
The first question that all business owners need to inquire about is if they should be involved in the payroll process at all. Clearly, payments have to be made to employees, but the business itself does not necessarily have to be the one who issues those payments directly.
How Convenient Is An Outsourced Provider?
Does the payroll provider that you select to provide you with an easy to use service? If not, then you have selected the wrong provider. All business owners ought to be able to count on their payroll provider to make the job easier on them, not harder. This means working with a group that provides some of the latest technologies and makes it easy to monitor what they are doing.
How Much Will This Cost Me?
Of course, this is the easiest question for a small business owner to ask as they are probably used to asking this question about nearly everything that they do anyway. The cost of an outsourced provider should be within the budget of most small businesses. If it seems to be escaping from that range, one should take a little time to do some more research and perhaps find a better provider.
Our pricing for printing checks online is very competitive. Call for a quote today.