Investors are celebrating today as the S&P 5oo continues to soar. On Tuesday, the market his an all-time high as the apex of the now longest bull market of all-time.
According to CNBC, the trade wars haven't harmed investor optimism that seems solely hitched on positive major corporate earnings reports and growth.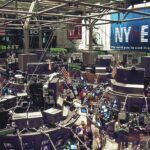 BBack on January 26th, 2018, the S&P hit 2,872. That was surpassed earlier today.
The bull market is now on a 3,453-day run, a new record.
"Nobody believed in this bull market and they still don't," said Marc Chaikin, CEO of Chaikin Analytics. Lots of people "were left so scarred by the crisis they didn't get on board.
Chaikin believes the run will continue.
"We have an economy that is not overheated and rates are still low. Couple that with the fact that people keep finding reasons to hate this market, that is a perfect storm for more gains."
What does this mean for the everyday investor? Well, investing is a complicated art that isn't less complicated just because the market is soaring. Buying individual stocks today means paying a premium price that's almost certain to drop off in months, or maybe years, to come. When it comes to long-term investing in blue-chip stocks, not much changes philosophically.
But the overall market's record high is a reflection that the economy is doing well. This means more jobs, more opportunities, and small business growth are all likely.
For any small business, beyond an investment portfolio, a good bull market is good can be good for the bottom line.
The Dow Jones Industrial average also gained 130 points.