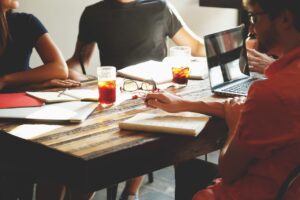 Watch out, and if you notice these negative traits in your office, take charge right away. You most definitely do not want anybody in your office bringing the entire business down.
Unfortunately, sometimes office employees and peers stray from the pack and pretty much lose any and all interest. I don't mean for a day. We all have bad days. I mean for lengths of time and when it is obvious there is no turning back.
Let's look at a few telltale signs of negative traits in offices and when to reel someone back in and when their negative traits are uncurable – and it is negatively affecting your workforce productivity.
Examples of Bad Character Traits
Loss Of Interest
Oh heck no! If you are truly interested in your office, you stay on top of the latest trends and always want to better yourself. A huge sign of negative traits in office settings is lack of interest. If you notice these negative traits in an employee, check out their situation and find out the reason.
There is always a chance they are having a personal issue that has nothing to do with work and will get back on track and their negative traits will go away. If they have completely lost interest, then some decisions might have to be made. After all, it takes a whole company for a business to succeed.
Not Taking Initiative
Be careful when employees stop raising their hands to help out and take on new roles which could signal negative traits. You might have to visit their workload. Could they be bored with the daily routine? Are they not challenged? Maybe they are just burnt out and need a break. Whatever the reason may be, there must be communication. Some people work so hard and will do anything…to the point of breaking. See if they need a little help in their department. You don't want to lose an amazing employee to this. You also don't want to keep someone on that is not wanting to be there by evidence of their negative traits. It is a fine line and communication is by far the best solution for your office.
Not Engaged Anymore
It totally stinks. But it happens. Sometimes the employees that are completely engaged and can't get enough in at office meetings, simply slow down. They stop giving input and they decide to take days off more than you would like are certainly negative traits.
This is not something you want to see in your office, especially since this is an employee who in the past, couldn't wait for their turn to speak. The only solution is to try to inspire them again. Help them to find what it is that had them blabbing ideas in the beginning. Most likely it is still there, you just have to ignite it.
It's hard when any of these traits arise in the accounting department, especially because we all work so hard and want to be excited about the end result. Keep the momentum going and stay positive. Life happens and sometimes it affects our peers with negative traits. Help them through as long as they want to be helped. If not, then it's best to part ways. There is definitely not room for toxic individuals. Just be sure to study what is happening and be sure it is not a temporary sign. Temporary situations can be saved.
If you do, then high five! These traits can definitely lead you into the right spot of your long-lived dreams. So follow your dreams and work hard. If you possess any of these traits, then success might be in your near future.
You Learn From Failure
If you steer towards fear of failure, then it will be difficult to achieve success in your office. Of course, we all have fears, but some changes must be taken and facing fear is just one of them. Look, you are going to fail from time to time. Why not learn from failures instead of getting swallowed by them. Don't fear failure. Learn from it!
You Achieve Under Pressure and Stress
Things are going to spin out of control in your office and you will feel like there are always fires to put out. But can you handle the heat? Starting a business office and leading others is a great challenge, and it ain't easy. So if you can't deal with stress and high pressure, it might not be for you. Some people work extremely well under pressure. Is this you? If so, then great!
You Walk The Walk
A lot of people have ideas and talk incessantly about these ideas. Then there are those who actually take action with these ideas and turn them into businesses. Don't just come up with ideas, make them happen. Fight your negative traits such as procrastination. They are not going to happen on their own. Again, don't just talk the talk, walk the walk.
You Welcome Complex Things
Some people loathe the thought of anything challenging and complex. Well, the fact of the matter is that when you have a business office and you actually want to be successful, things are extremely complex. This is why many entrepreneurs are complex thinkers and in a way, daredevils. I don't mean motorcycles on cliffs, I simply mean that they don't scare easily when confronted with a complex challenge.
So, if you are someone who likes complicated things and can take all of the emotion out of it, then my friend is on the right path to success in his office. Failure stinks, rejection burns and money loss is just plain awful. But it happens. So buckle up!
Top Reasons You Are Much Better Off Using A Check Writing Service
There are so many reasons to utilize a check writing service. The most important thing to understand is that you can trust that everything will be completed, and on time. How's that for spectacular? Keep yourself busy with growing your business. Leave the check writing to us.
Checkissuing.com's mission is to make your life easier by providing an end-to-end solution for high-volume check writing and delivery. From the first time you speak with one of our associates, to each time you need to send out

Check Issuing strives to make check writing and delivery an effortless process.

We do more than deliver high quality printed documents – it is a complete solution that keeps you in control of the entire payment process, with the systems and processes to reliably do it at high-volumes, upwards of as much as 50,000 checks a week.

Contact us to discuss the pros and cons of outsourcing accounts payable.
Highly Secure MICRPrinted Checks
This is by far the most secure process for check writing and guess what? Yup, we use it! Our envelopes are also high security and of course delivery is safe and secure as well. Right here, you are preventing and avoiding check fraud at all costs.
Impeccable Customer Service
Not only are we cool as heck, but we respond faster than Superman and with the answers that you actually need!
It's Never Too Much
Checkissuing.com offers some of the highest possible daily and weekly check printing volumes available. 20,000 checks printed daily, we can handle even the biggest jobs. We got you!
Our Customer Portal
This is something you will love, and need! Plus it is super user-friendly. our customer portal allows for easy uploads, reporting, and management of your recipient data. You're just a few clicks away from effortless check writing and delivery!
Custom Logos
Our Custom logo and insert service allow you to brand yourself. It's always important to keep your audience engaged!
Focus on what you need to do while we deal with handling and processing your checks! That our job – outsourcing accounts payable function!
Happy Hump Day!
How To Avoid Getting Sick At The Office
Tis the season! The sick season, that is. We all dread it and it almost always happens. Getting sick is such a bummer and can really ruin your work cycle. Productivity is lost, work days are missed and let's be honest…you are miserable. Colds and cases of flu get passed around like nobody's business and just about everybody in the office gets taken down. Let's chat about some simple ways to help avoid these nasty viruses and bacterias.
Be Honest With Yourself
This is going to sound blunt. If you are terribly ill, stay home. By going into the office, you put everybody else at risk and then the vicious cycle begins. Obviously, you cannot miss work every time you sneeze, but if the serious symptoms are there and you can barely pull yourself together, it is best that you use a sick day and rest.
Keep To Yourself
Germs spread so easily, so keep them to yourself. Be sure to wash your hands regularly and disinfect your office supplies. If you are coughing and sneezing all over your computer and ask the IT guy to help you, then he is going to get sick too. It's always best to keep your desk and office very tidy and keep tissues on hand. Please use tissues and cover your mouth when you cough/sneeze.
Eat These Immunity-Boosting Foods
You can roll your eyes, but I guarantee you kick the cold/flu faster if you eat up the right foods at the office and home.
Probiotics – greek yogurt and pickles containing live and active cultures are great options. You can beat the cold much faster if you help your digestive system first.
Vitamin D – Sunlight is by far your best option here, but given the time of year and dependent on your location, this might not be an option. Try to amp up your immune system with Orange Juice, Whole Milk and Eggs. You can also get a vitamin D supplement.
Antioxidants – Take some spoonfuls of honey to fight off infection in multiple levels. It's crazy that something that tastes so good can act as a natural antibiotic.
Vitamin C – Good old Vitamin C should be a regular part of your diet anyway. Found in so many fruits and vegetables, there is no reason not to enjoy it. Eat some oranges, heck even some yummy watermelon! Ginger is also loaded with Vitamin C, as well as magnesium. Ginger can definitely kick the booty of any respiratory issues.
Anti-Bacterial – Apple Cider Vinegar and Lemon either separately and together help to fight viruses. They are also anti-inflammatory. Try kicking a stubborn cough with these gems and you'll thank me later. You can take a teaspoon of it or mix it with water. If you really don't want to think about it, drizzle it on a salad. It tastes like dressing. Fight the fight. Apple Cider Vinegar kills the fungus. Lemon reduces phlegm.
If you are sick, get well soon with these tips. If you are not sick, you can prevent illness by following these same rules. Stay healthy folks!!
Check Issuing Wants Your Business So Bad That…
That cliffhanger headline was freaking awesome, wasn't it? Don't pretend it wasn't, because if you are reading this article, you went for it. But don't feel bad about that, because you may have stumbled on the best post of your life. Hyperbole, of course, but still, one never knows.
Check Issuing is an amazing third party check writing service. We save companies thousands of dollars a year. We help prevent fraud. We improve your brand.
Maybe it is too early for you right now? Maybe you aren't into changing your life with Check Issuing? In that case, I need you to watch this video and then continue reading.
"If I quit, however, it will last forever."
That really has nothing to do with Check Issuing and yourself, but it sounded incredibly amazing. So I quoted it.
The reality is, I want you to give us a try. Maybe our product isn't in your wheelhouse, maybe you have never considered it before? That's all fine and well. I'm just asking you to give us a shot. I'm asking you to call us up and tell us about your business model, to have a conversation.
I do know this, you won't regret it. You know something else that you won't regret? Me telling you that it is almost Friday!
Resources:
Watch out for these negative traits in your office – both in our employees and yourself.
Call Us at 1.866.535.3954