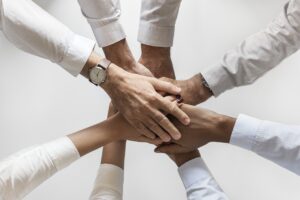 Team building is a rather essential piece to any company who wants to create an environment that harbors production through groups of people.
Most companies don't run with 1 man departments and even then, various departments almost inevitably need to find a way to work together for the company's greater good. Not every person will get along with every person, nor should they be expected to. But they do need to learn to work together, hence the team building aspect of this post.
Team building allows a company to bond its employees at the core, more personal level, opening up the doors of interpersonal comfort. Our outsource payroll department works as hard at team building as printing your checks. A shy employee may be afraid to speak up with great ideas, team building can help them be more forthright and assertive so you don't miss great ideas or detrimental changes and evolutions.
Team Building Ideas
Truth Or Lie. This game means that everyone has to tell a truth and a lie about themselves. The rest of the team members must decide between the two which is a truth, which is a fib. This game can be really fun and garner some interesting, energetic responses while also allowing people to have some fun with each other and bond. This is the goal of team building in the workplace. This exercise can make everyone more comfortable with one another.
Use Legos. Have teams mimic building lego structures based on lego concoctions you find online. Just give them pictures printed out. Then judge them (nicely) afterward, of course : ). This can really help people learn to work together as a team for a greater goal. It can also help people learn to find where they fit in best, call on their strengths and weaknesses. Being able to find your place is an essential skill all on its own.
Get Out Of The Office. Yep, get out of the office. Go somewhere. Do something fun together as a group. Maybe even consider doing some charity work together, lots of charitable organizations are always looking for help and love it when companies contact them. Everyone will feel good doing something philanthropic plus enjoy the new experience and bond.
Talent Show. Ok, it doesn't have to be that dramatic, but it would be cool to have everyone come in one day and teach something they are good at. People will enjoy the moments in the spotlight and showing others how to do something new helps instill leadership skills.
All in all, promote team building activities for adults!
Check out this funny team building exercise
Check Disbursement, The Not So Big Deal, Right?
Check fraud, knowing that Check Issuing is going above and beyond to protect your business can help any business owner or operator sleep a whole lot better at night. Many companies may choose to ignore check disbursements, but the overall cost in, in the end,s a long way to make them feel, well, bad about it.
Check fraud has never been more profitable. Since Catch Me If You Can's plot played out in the 1960's, check fraud, bank fraud and, identity theft have certainly evolved into more sleeker and efficient methods, lending them more power and savvy. The check fraud industry is very lucrative to those thieves that choose to go down that unsavory road. Taking advantage of companies who perform their own check disbursements is a seemingly great place for check fraud thieves to start.
When you use Check Issuing, you use a service with over a decade's worth of combined banking experience. You use a company that's sole focus is on protecting your checks, branding your checks via custom check logos and offering impeccably friendly client relations.
Get Rid of the Headaches and Stress of Handling Payroll by Outsourcing
Many small businesses are unable to stay up-to-date on the latest government regulations. If small business owners are unable to check the regulations, the payroll processing will suffer. Your small business can avoid the headaches and hassles of your payroll process by allowing a payroll service to handle all of your payroll operations.
Since many professional payroll services have been in operations for several years, they can deal with any challenges without becoming frustrated or confused. A professional payroll service will get an understanding of your small business needs, and they will also treat your business and your time as a precious product.
When you think about how much time it can take you to figure out how the suffer works, a professional payroll team could have all of your payments processed. Your payroll needs will also be covered with the newest and most up-to-date technology, as well as the latest rules and regulations.
Since you run a small business, it will be beneficial to outsource your payroll check printing needs instead of hiring someone to work in-house. A bigger business has the budget to hire employees to work in the payroll department.
However, your small business may not have the finances to add one or two employees to handle all the payroll functions, such as printing the checks, distributing the checks, writing the checks, and ensuring all of the tax information is always updated.
It is not difficult to make a mistake in payroll, and because there are so many common mistakes, many businesses land in serious trouble without them understanding what they have done wrong. When you outsource your payroll functions to a reliable payroll service, there will be a smaller occurrence of mistakes. If mistakes are made, the payroll service will be responsible for those mistakes.
When you choose to outsource your payroll functions, your small business will have the time and energy to focus more on growing the business and making improvements, instead of stressing over payroll functions.