CHECKISSUING ACH Online Payment Services
Send ACH EFT payment transfers as direct deposit transfers swiftly and securely to your payees using Checkissuing's Secure ACH Payment Software Administration System or through API automation. Simply provide the routing and account number of the destination ACH account or recipient's email address, and we will initiate and process the ACH EFT direct deposit transfers. Our ACH payment services are among the most robust among other ACH payment companies.
ACH AUTOMATION: PAYMENT SERVICES YOU CAN TRUST
At Checkissuing, we take deep pride in our forward-thinking approach to creating an amazing Payment Sending and Transfer Platform for our clients. Our focused approach to ultra-strong security, the methodology behind our Smooth UX (user experience) System, and our reliable and always-there customer service team set us a cut above the rest. We provide the highest level of quality control to ensure each of our clients is fully satisfied with their payment services.
As traditional checking disappears, our clients have moved to eChecks transferred via the ACH network. But with such a massive transition, businesses worry about quality and security. And when it comes to moving large sums of money, you need to know you can trust your payment processor. Checkissuing removes uncertainty with state-of-the-art security, an affordable model with no monthly minimums, and broad payment solutions. Checkissuing is SOCII-SSAE 16 Type II Audit certified, HIPPA compliant, and our systems are hosted on Amazon Cloud (AWS).
FAST & EASY SET-UP ACH AUTOMATION PROCESS
Send ACH EFT payments, otherwise known as eChecks or electronic checks, from your own accounts
Utilize instant setup options
Direct access to our development team for ACH EFT integration assistance
24/7 access to our ACH software administration system or API, for full ACH transfer service capabilities
No monthly minimums - a rarity among ACH payment service companies
SOC/HIPAA compliant - the high level of security you need when evaluating ACH payment service companies.
HOW CHECKISSUING'S ACH AUTOMATION ECHECK SERVICES WORK
Using Checkissuing's ACH EFT Payment Software Systems, clients can upload or send a data file through our API. The file contains their payee's name, banking information or email address, along with the amount to transfer to them. Checkissuing verifies the validity of data fields to ensure the entries have the correct character count, format, and structure. This reduces virtually all likelihood that the ACH EFT payments, otherwise known as echecks or electronic checks, will be rejected due to incorrect information.
We will either send the ACH EFT payments directly to the client's recipients or send them an email request containing a link to a secure page with the client's company branding where they can enter their bank account number and routing information into the secure form and confirm it.
Once entered and confirmed, their payment will be automatically sent to them, branded discreetly as "ACH TRANSFERS," along with the client's company name. Then for all future ACH EFT payment transfers sent to that payee, the payment will be completed automatically without any other information or work from the payee needed.
If a payee ever needs to update their banking details, they can easily do so themselves. With Checkissuings ACH payment solutions, this is a unique feature that not many ACH form providers or ACH transaction companies offer, including full ACH EFT automation.
WHY WE ARE DIFFERENT THAN OTHER ACH PAYMENT PROCESSING COMPANIES
ACH payment processing as an industry has grown rapidly over the past few years. The pandemic fast-tracked businesses' switch to ACH payments, resulting in ACH B2B payments rising by 33.2% over just the past two years. With such proliferation, the market saw new payment processing companies form in record numbers. However, not all ACH payment service companies are alike.
The team members at Checkissuings have deep backgrounds in payments, engineering, development, security, compliance, finance, quality control, and technology. They are not newcomers flocking to a trendy cottage industry. They are passionate and educated about ACH processing and how these services can support businesses in a variety of industries.
Combined with a resolute operational team, dedicated customer service staff, and an innovative development team, Checkissuing offers fresh solutions to systems and technology in order to provide state-of-the-art payment and statement solutions.
We also take pride in knowing that Checkissuing goes a step further than many other companies in the industry. There are many ways in which Checkissuing's services far exceed the industry norms:
Security – Checkissuing is SOCII-SSAE 16 Type II Audit certified, the highest service level attainable for a virtual server hosting company. We are HIPPA compliant and our systems are hosted on Amazon Cloud (AWS), which supports more security standards and compliance certifications than any other offering. This is the same platform that the NSA (National Security Agency) uses to store their information.
Service options and solutions – We provide an incredibly robust offering of services, including digital checks and ACH payments, along with integrations and support.
No monthly minimums – We do not charge processing fees or monthly minimums. Therefore it doesn't make a difference in cost to you whether you use us one-time or on a regular basis, making us an exceedingly affordable choice to send ACH.
Unique features and automation – Automate through the Checkissuing API for ease of use for you and your payees. Payees can make changes to their banking information without sharing their private data with you, so you don't need to worry about storing secure data. Clients have a wide offering of features and add-ons to customize their experience.
WHAT TO LOOK FOR IN AN ACH PAYMENT PROCESSING COMPANY
There are many ACH payment companies out there that charge high fees and offer little in the way of true customer service. Before signing up for a competitor, consider the following attributes to look for in an ACH payment processing company:
Multiple payment options – You should be able to pick the payment services you want to offer your payees - without fees and restrictions.
Affordability – Are there startup fees? Monthly minimums? Processing fees? Banking fees? All those fees can add up quickly, making it difficult to send ACH payments online.
Security – Banking fraud, like ACH processing, is a booming business. With sensitive financial information, you need to know your payment processor is keeping your information - and your payee's- secure.
Customer service – Many companies tout their customer service. But what support are you really getting? How accessible is customer service during startup, integration, or ongoing concerns?
Industry expertise – Some smaller companies will try to convince you that your business is so niche that only they can understand and support you. Understand that while you should feel your processor understands the tasks you need to accomplish, things like access to funds, secure systems, and honest, helpful, and accessible customer service are even more valuable.
SECURE ENCRYPTED ADMINISTRATION SYSTEM
Our administration system and/or API allow you to securely upload and process your bulk or single electronic ACH transactions, access reports, set permissions, and much more, all instantly through your mobile device, desktop, or tablet. From invoice processing and approval to scheduling payments to running reports, the dashboard offers the ability to process thousands of payments with just a few clicks. ACH EFT Payments, otherwise known as echecks or electronic checks, are remitted in your chosen payment methods with no need to log in to additional portals. Sending ACH EFT payments has never been easier, especially after integration with the ACH form automation capabilities.
Upload your CSV files online to be processed using our Secure EV-SSL 128-bit encrypted file upload system through our administration system or automatically through our modern API. With our robust security protocols, verified through our SOC Audit, you can rest assured that your financial information will not be compromised, as we are one of the most secure ACH transaction processing companies in the industry.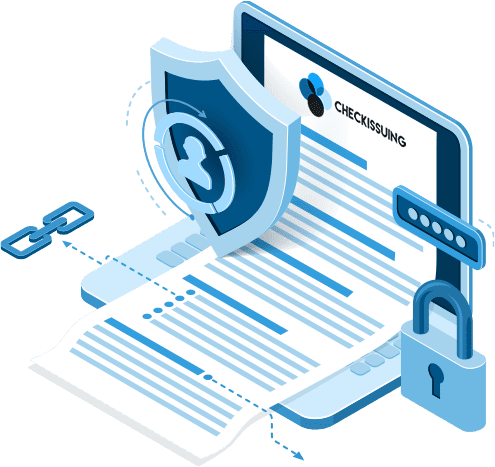 SUB-ACCOUNTS AND FUNDING SOURCES
Checkissuing can support multiple bank accounts under one primary account. This allows you to manage all of your funding source accounts or clients' accounts with just one login. Using our ACH EFT payment software, you can send ACH form electronic payments, otherwise known as echecks or electronic checks, from each bank account by determining which bank if you plan to send from within your CSV file or through the API.
Partnering with Plaid, we offer instant bank account authorization, as well as the ability to pass us your Plaid token for seamless systems integration.
BENEFITS THAT MAKE ACH TRANSFER SERVICES AND ELECTRONIC CHECK PAYMENTS EASIER THROUGH CHECKISSUING:
Secure Financial Data – No need to store your payees' financial information, we take care of that for you with our state-of-the-art industry-leading security.

Payment Velocity – Send up to 10,000 ACH EFT payments at once, with just a few clicks of a button, or set up ACH transfer services to do it seamlessly.

Bank Independent – Our platform works with all U.S. banks and credit unions. There's no need to change your banking relationships to work with us.

Branded Experience – Maintain your branding and control your user experience while leveraging our robust ACH form payment software and technology.

Scalable Infrastructure – A tested platform that is highly available and scalable to grow with your increasing ACH transfer payment processing needs.
FEATURES AND OPTIONS
Same-day, Next-Day, or Standard ACH electronic check transfers are available by preloading funds or the standard timeline of 3 business day transfer.
Workflow management – It is simple to set up an approval workflow by setting approval tiers for different payable ranges.
User Management – Create as many users as you want, with the desired permission settings for each one, as well as a 2-factor authentication security option.
Approval Permissions System – Add approvers to a payment—they can review and approve from any device, anytime.
Recurring or Future Payments – Set up ACH EFT payments to be sent out automatically on a regular basis or set them to be processed on future dates.
Payee System – Checkissing offers a system that automatically saves your payee information to send electronic ACH EFT payments on the fly if needed.
Secure Financial Data – No need to store your payees' financial information using our ACH EFT payment software; we take care of that for you with our state-of-the-art industry-leading security for our echeck EFT software.
Learn how Checkissuing follows the latest security trends and technological innovations to help businesses set up ACH form automation for their accounts payable department with Checkissuings electronic check solutions, and get your business started with Checkissuing ACH form payment processing today!
Frequently Asked Questions
WHAT IS ACH DIRECT DEPOSIT?
In the United States, the Automated Clearing House (ACH) or Electronic Funds Transfers (EFT)" are a convenient, reliable, inexpensive, and commonly used payment method. It requires knowledge of the payee's bank account and routing transit number, which payees can find looking at the bottom of one of their checks.
Businesses rely on ACH direct deposit transfers for their security and protection and as a way to automate their Accounts Payable processing to reduce costs. ACH payments are used by businesses for invoice and payment processing, by vendors to accept payment, and by online companies or vendors to accept or, in our case, send electronic payments to customers.
ACH direct deposit transfers process within a few business days but offers a higher level of protection than many other payment methods. In addition to fraud protection, using this method means you can stop or alter your payments through the ACH Network even after sending the funds. If your business sends incorrect information, you can review and stop the transaction, giving you tighter control over your funds.
Many businesses still have outdated and inefficient methods of accepting, processing, and posting called-in, mailed-in, and even in-person payments from their customers. Using the Checkissuing ACH Direct Deposit Processing Service can efficiently resolve these issues.
HOW SECURE ARE ACH DIRECT DEPOSIT TRANSFERS?
ACH transfers are considered to be one of the safest and most reliable payment systems available, according to NACHA, the governing body that oversees the ACH network. All ACH Network payments are protected under federal law in case of fraud or error, meaning your business's funds are kept safely in your control. The high level of security and control that the Checkissuing system offers accounts for the growing number of businesses relying on it as their primary payment method
HOW COMMON IS ACH AND ACH FRAUD?
In 2022, pretty much everyone has made an ACH transaction at some point. Unfortunately, as more people and businesses begin moving money this way, more criminals have also started using the Network to defraud innocent individuals and steal money directly from their checking accounts. That's why it's imperative to keep your banking information secure and only work with reputable ACH companies to handle your payments.
CONTACT US TODAY
Contact us today to get a demo and find out how we can help with your printing and mailing needs!