ONLINE CHECK PRINTING SOLUTION & CHECK MAILING SERVICE
Fast processing times, a robust online administration system, and highly scalable capacity are some of the reasons hundreds of companies rely on Checkissuing's award-winning secure online check printing and mailing services. In addition to a modern API, our check writing company offers USPS's NCOA (National Change of Address) and CASS (Coding Accuracy Systems Software), as well as Intelligent Mail barcode USPS mail tracking services.
BULK ONLINE CHECK MAILING SERVICES MADE SIMPLE
Mail checks out via USPS the same day you process them, using your own financial accounts, an option many companies prefer when outsourcing check printing.
Instant setup is available, so you can start mailing checks out today.
Customers have premier access to our development team for integration assistance.
Utilize a 24/7 administration software system with helpful reporting features.
There are no monthly minimums through our check printing software platform.
Optimize your systems with a check mailing company with SOC/HIPAA-compliant systems and software.
HIGH-SECURITY CHECKS AND ENVELOPES - THE CORNERSTONE OF SAFE ONLINE CHECK-WRITING SERVICES
Hi-Security Checks
With our check mailing company's outsourced check mailing services, enjoy the benefit of:
Trifold 8 ½" x 11" Sheet (including middle memo section).
Our check mailing company is partnered with Pitney Bowes and Pacific Automation.
Issue Ultra-High Security Checks using our software platform
Using premier SAFE Checks stock to eliminate the concern of check fraud!
Hi-Security Envelopes
All envelopes for our outsourced check printing and mailing services include black security tint, which prevents sensitive check information from being read through the envelope. Some additional security features include:
Fourdrinier Watermark
Thermochromatic Ink
Toner Anchorage
Explicit Warning Bands
Chemical Wash Detection Box
Visible Fibers and Payee Area Protection.
Colored Logo on Envelope (optional)
Reply Envelopes (optional)
ACCURATE & SPEEDY DELIVERY THROUGH OUR AWARD-WINNING CHECK PRINTING SOFTWARE
All Outsourced Check Printing Services include Document Integrity.
A small 2D barcode is included on all printed pieces for internal document integrity during bulk check printing, inserting, and mailing, including all checks issued by mail.
We partner with Pitney Bowes and Pacific Automation for secure processing and tracking.
Online Check Printing And Online Check Mailing With First-Class Mail Tracking
Our bulk check printing services include full transparency through the entire check cycle, including knowing when the check has cleared.
Know when your mail enters the USPS mail stream, receive all updates, as well as estimated mail delivery time and notification when it has been delivered.
Automated Check Printing Services, Including Robust Mailing Options
USPS First Class – Required by Federal Law for check mailing
USPS First Class – International
USPS Priority – 2 Day
USPS Priority Express – 1 Day
FedEx – 2 Day
FedEx – Overnight
USPS/FedEx Box – Bundling Option
SECURE ENCRYPTED CHECK PRINTING ADMINISTRATION SYSTEM
Our online check mailing company's administration system and API allow you to upload securely, process, and automatically issue your bulk or single check payments, access reports, set permissions, and much more, all instantly through your mobile device, desktop, or tablet.
From invoice processing and approval to scheduling payments to running reports, our check printing software's dashboard allows you to issue thousands of checks with just a few clicks. Payments are issued in your chosen payment methods without needing to log in to additional portals. We are a check printing company that does its best to have its clients' best interests in mind, including many related services.
Upload your CSV files online to be processed using our Secure EV-SSL 128-bit encrypted file upload system through our company's online administration system or automatically through our modern API. With our robust security protocols, verified through our company's SOC audit, you can rest assured that your financial information will not be compromised, and your recipients get their checks by mail on time, every time.
CHECK PRINTING SERVICES USING MICR TECHNOLOGY
Our check printing company uses Magnetic Ink Character Recognition, which is a character recognition system that uses special ink and characters to provide a much higher level of security and a decreased exposure to check fraud. Included with our services, MICR ink provides a secure, high-speed method of scanning and processing information in the banking network and an additional safeguard with our bulk online check printing and mailing software systems.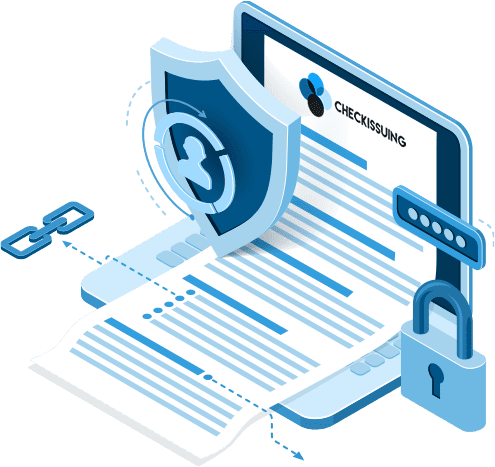 POSITIVE PAY PROTECTION
Online check mailing may seem risky to those new to the service. Positive Pay is a business process designed around coordinating with the client's issuing bank in order to help prevent check fraud. It consists of submitting files to the bank that contain issued check information such as the check number, issue date, and amount. When the bank receives a check, the bank compares the data on the check to the issued check information provided by the client. If the check information contains any discrepancies compared to the subject file, the check is set aside as an exception for the customer to review for accuracy. Check-writing has never been more secure!
This process prevents altered checks from being cashed by using a stolen account number or a blank or "washed" check. It also prevents the payee from altering the check amount or other vital pieces of information. Whether you seek to send out ten payments or 100,000 payments, your company will surely value the simple, straightforward process Checkissuing offers for efficiently and securely printing and mailing your checks.
Included with our services, our check printing company offers clients a system that allows them to provide their bank's positive pay format to CI. The system can automatically upload the files to the client's bank or make the positive pay file available for download through our check writing software so the user can upload it to their bank themselves. When outsourcing your check services, Positive Pay makes the check-writing process much more secure than otherwise.
CUSTOMIZE YOUR CHECKS
Online check mailing doesn't have to be monotonous. Complimentary to our outsourced check writing services, we also offer options such as colored or black and white logos and documents or marketing materials inserts. Our advanced check printing systems and software allow for a wide variety of options, guaranteeing we can create a custom end product sure to exceed your expectations. Offered at competitive prices, selections include Black and White Flyers/Documents, Full-Color Flyers/Documents, Brochures, Pamphlets, Newsletters, Leaflets, and Inserted Return Envelopes. Checkissuing is a check printing company that offers a multitude of options to its clients.
SUB-ACCOUNTS AND FUNDING SOURCESS
Our online check-writing company can support multiple bank accounts under one primary account for your check-writing needs. This allows your company to manage all of your funding source accounts or clients' accounts with just one login. You can write checks from each bank account by determining which bank alias you plan to send from within your CSV file or through the API.
When outsourcing your checks and using online check mailing services, clients can also create different customized check templates with our check mailing company's software, using various bank accounts if preferred. When your recipients get their checks by mail, they will look exactly as you want them to look.
Partnering with Plaid, our check printing software offers instant bank account authorization, as well as the ability to pass us your Plaid token for seamless and automated systems integration.
CHECK PRINTING FEATURES AND OPTIONS
Automated cashed check status updates – With most US Banks, our software can determine which checks have been deposited and update the status in our systems to display/notify this information through our online administration system or API.
Workflow management is simple to set up an approval workflow in the software by setting check writing approval tiers for different payable ranges.
Check Images – View or download images of checks you have entered into the system through our software or download them in a Zip file for a date range of payments.
User Management – Create as many users as you want through our software, with the desired permission settings for each one, as well as a 2-factor authentication security option for an ultra-secure check-writing process.
Bundling – Package your enveloped or non-enveloped checks by USPS mail packages or through FedEx to be sent to one service address.
Signature options – For your check signatures, upload your signature file, allow us to create a Digital Signature for you, or create your own signature using your mouse, finger, or stencil. Our check writing software is flexible to make the job as easy as possible.
Check numbers – Upload your desired check number with each payment or allow us to auto-assign check numbers.
Recurring or Future Payments – Automate your checks by mail payments to be sent out on a regular basis or set them to be processed on future dates.
Payee System – We offer a system that automatically saves your payee information to write on-the-fly checks as needed.
You will find that Checkissuing is a unique check-writing company that consistently follows the latest security trends and technological innovations. Our bulk-online check writing software and automated solutions have been used reliably and dependably for many years by hundreds of small, medium, and large enterprise-level companies that outsource their check printing.
Frequently Asked Questions
Standard and Bulk Check Printing services are the process of printing checks to pay employees, vendors, for rebates, the redemption of coupon, class-action lawsuit settlements, and for similar matters. After checks are first printed, they are typically then mailed out.
How does check printing work?
Check Printing service is first done by the payment information first being entered into a processing system. The checks are then printed through a MICR printer, sent into an envelope inserting machine, then through a postage mail meter, then sent to the USPS or through an expedited delivery service.
Can you print checks online?
Yes, if you need to print checks online, you can use the services of a company that allows you to give them your banking account information and create or upload a signature. You can then submit payment information to that company where they would then in turn create, print and mail checks out on your behalf.
Is Magnetic or MICR ink needed for check printing?
Magnetic ink, otherwise known as MICR ink, is no longer needed for the printing of checks. While this was a requirement before Check 21 was passed in 2003, banks now capture images of the front and back of the checks and transmit this information electronically.
Check writing is the process of writing a check, which includes bank information, payee/payment information and a signature.
Can I write a check online?
Checks can be written online using a service that can capture the payors banking information, create a digital signature, and gather the payee information in order to produce a check.
What check mailing options are there?
Checks can be mailed USPS First-Class mail, and faster methods are USPS Priority, Priority Express, and FedEx.
Can I customize my checks?
Checks can be customized using a specific theme or security backgrounds, as well as adding a logo if needed.
How can I track my mailed checks?
Checks can generally be tracked if they are mailed USPS Priority, Priority Express, Certified mail, FedEx and UPS.
How can I verify if a check is legitimate?
Banks have various methods of making sure a check is legitimate, including verifying that there are funds in the account, or calling the issuer.
MICR short for Magnetic Ink Character Recognition, is the print in a check using magnetic ink, which is the technology used mainly by the banking industry to streamline the processing and clearance of checks.
CONTACT US TODAY
Contact us today to get a demo and find out how we can help with your printing and mailing needs!