In this age of modern technology, where most of the information is carried out digitally, it's easy to forget how we used to get around. This includes everything from methods of communication to payment methods and many other aspects of everyday life. But what happens when you need to use a check, for example?
Many rely on checks as the only option for payment, while others use it occasionally when required. If an occasion dictates that you mail a check, you're probably clueless on how to do it, right? If anything, you are not alone. Chances are many are also wondering how to send a check or what's the best way to mail a check.
You are probably even asking yourself, "Is it safe to mail a check and what's the safest way to mail a check?" In this article, we will cover all the vital information about sending a check through mail, including how to safely mail a check, how to send a check by mail, and what is the safest way to mail a check.
We will also answer some nagging questions regarding checks like what to do when it gets lost or stolen, how to request a stop payment on a check, and how to use online services to mail your check.
Safe Bets When Sending a Check via Mail
Before you can safely send a check through the mail, some precautions must be taken. Naturally, you can't just pick your favorite postal service and proceed towards sending a check via regular mail using the standard method. But why is that? Although not illegal, sending money or checks via mail is not advisable.
There are many reasons why, starting from the first and most obvious – it's not the safest way to send checks. The check can get lost, stolen, or even misplaced during shipping. Simply put, there's a lot of risks involved in sending checks through the mail, and it shouldn't be your first option.
However, if mailing a check is your only option, there are things to consider to ensure that the recipient gets it.
Use colored, or an otherwise special type of letter

Fold a piece of paper to hide the check

Use a greeting card to hide the check

Be specific about recipient info and deposit details

Consider using electronic payment or online check-sending services
Using the methods mentioned above, you'll definitely minimize the risk of getting your check stolen, misplaced, or not delivered to the recipient. If you're still wondering how to mail a check and are interested in the details of each method, read on.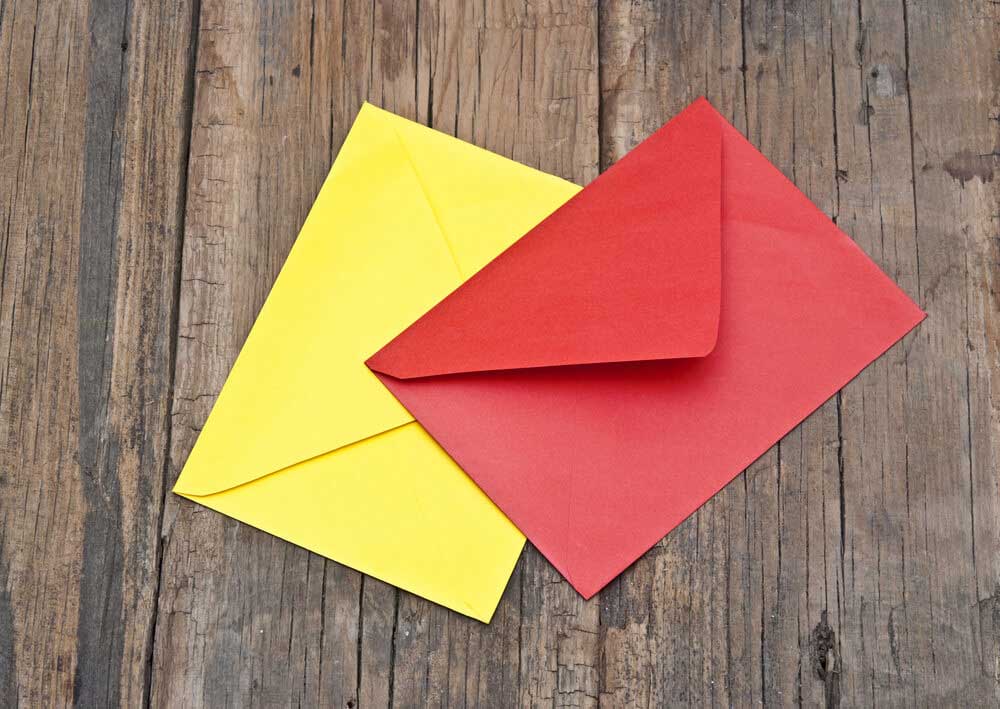 Using a Special Type of Letter
You can use a special type of letter (either colored or using Special delivery), to make sure that the recipient gets the check. If you don't know where to get a colored letter, the clerks in the postal office can provide guidance. Often, they will provide several options when it comes to colored letters. You can also bring your unique letter as long as it's possible to write and read the sending information.
When sending a letter via special delivery, all you need to do is inform the clerk that it is your preferred method. They will fill you in on the details on what to do. Generally, mailing a check isn't much different than mailing a regular letter in terms of which information it requires, the mailing process, etc. It is, however, the safest way to mail a check. It will arrive faster, and the chances of being misplaced or stolen during delivery are close to zero.
Hiding a Check in the Letter
If you don't want to pay an extra fee for special delivery, or simply don't prefer this option for one reason or another, consider hiding the check. This way, it won't be obvious that the letter contains a check. To do this, get a piece of colored or regular paper. Make sure the paper is not extra thin so it won't be obvious you are hiding a check in it.
Once you've picked the type of paper you want to use, fold it and place the check inside. You can fold it several times or only once, depending on the type and transparency of the paper. The alternative is that you use colored paper or a greeting card. Although the colored paper is visible inside a letter, it isn't obvious that it hides a check.
Wondering how to send a check using a greeting card? It's pretty simple. First, pick your favorite greeting card — something that matches the season, or maybe an upcoming holiday. Now, fill out the greeting card, open it, and place the check inside.
No one will dare to "misplace" a letter containing a Thanksgiving greeting card. Also, whoever you're sending the check to, will love the detail and intention. You can combine using the special delivery service and hiding the check for guaranteed safety.
Using Specific Info and Restricting the Check
Although forging a signature and other details required to cash the check is hard, it isn't impossible. This is why we're inclined to hide the check in the first place when using regular mail. If you don't want to hide the check, consider restricting it. To do this, fill in the details as you normally would and add "deposit only" at the end. This way, the only way the recipient can get the money is by going to a bank.
You can also fill out the check to transfer the money to a specific bank account. How do you restrict the check this way? Add "Pay to the Order of Sample Bank" followed by the account of the recipient as well as the payee's signature. This makes forging or otherwise stealing the funds virtually impossible. Even if someone manages to steal the letter with your check, they won't be able to do anything with it.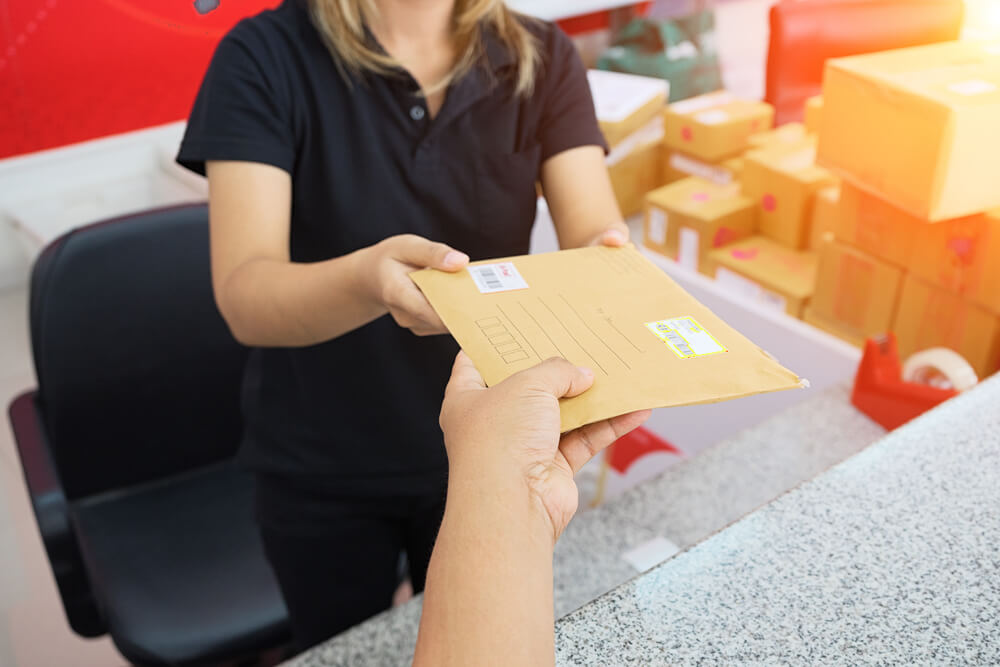 Using Online Services
If you still aren't convinced that sending a check via mail is safe, there is an alternative – sending the check online. There are many ways you can do this; however, make sure that the services are legit and verified. You can use this one to send a check online or to any other source with the same security measures. This way, it's guaranteed that the check will arrive safely and that the recipient will get their money much faster. While regular mail can take a couple of days, this method is almost instantaneous.
Can Checks Be Folded When Mailing Them?
When it comes to checks, many people ask one nagging question: can you fold a check? Folding a check is perfectly okay. Many people fold their checks to keep them in perfect condition and ensure they remain safe inside their wallets. This brings us to another common question: is there a right way to fold checks? The answer is yes.
The recommended way is to fold the check in half. Folding it in half is the best way to ensure it won't get crumpled. Folded checks are easier to carry in your bag or wallet. However, it is not advisable to fold a check as many times as you want, as it might render some of the important information unreadable.
The following information should be clearly visible so you can encash a check without any issues:
Payee's name

Date

Dollar amount

Signature on the check

Check number

Bank account number
What Happens if a Check Gets Lost in the Mail?
Even if writing checks is not something you often do, they are still considered one of the most reliable payment options available. If you suspect a check you sent got lost in the mail or was stolen, make sure to report the matter to your bank as soon as possible and request to stop payment on it.
It's important to stay vigilant if your check gets lost or stolen to avoid any stress and possible financial loss. If a check you mailed has gone missing, keep the following basics in mind:
Take Note of the Important Details
Before you get in touch with your credit union or bank, ensure you have gathered all the important information about the missing check. This includes:
The routing number

The check number

The account number

The name on the bank account

The amount of the check

The payee's exact name as written on the check
Once you have all the important information handy, call or visit your bank, report the missing check and ask for a stop payment. Some financial institutions will allow you to process this online. Check and find out if it is an option available for you.
Monitor Your Bank Account
If your bank did not receive any stop payment order from you, it can still process the check. This is why you should regularly monitor your checking account online. Ideally, you should check your account at least several times weekly. If you have a reason for concern, checking daily would be ideal.
If you would like to dispute a check cashed in error, you need to move fast to avoid liability. While some banks won't impose any time limit for reporting fraudulent check cashing, remember that federal laws do not regulate stolen checks, so policies can vary from one bank to another.
Requesting a Stop Payment on a Check
When requesting a stop payment on a lost or missing check, remember the following:
Fees to stop payment on a check can vary from one bank to another. The typical fee can range from $15 to $35. However, some banks will waive the fee if you have a premium account or the missing check is blank.

Your bank will flag the missing check number when you request a stop payment order. Given that the check has not been processed yet, it won't be cleared.
A stop payment request can last for six months. According to state law, stop payments made via phone rather than in writing might lapse after 14 days. You should check with your bank if you need to fill out any forms to get the full six-month hold.

If the stop payment ends, but you still suspect criminal activity, you can renew the stop payment order for another six months, but you need to pay another fee.