Checkissuing Digital Check Solution
Sending digital checks instantly and electronically online has never been easier with the Checkissuing Digital Check Platform. With Checkissuing's end-to-end Digital Check service, payees can deposit their emailed Digital Checks in just a few seconds. No more trips to the bank. Payors only need to know the Payee's Name, Email, and Dollar Amount (no bank account info needed). If you send echeck online instantly, there are no material or postage costs, as they are sent through email.
Checkissuing's simple solution to send online checks is changing the way individuals and businesses send and receive payments.
SEND DIGITAL CHECKS ONLINE: EASE OF USE
Ever wonder how to deposit a digital check online? A digital check can be instantly electronically deposited at the click of a button using a smartphones banks image capture app or by printing and depositing the physical check at a local bank or ATM. All you need to send a digital check through email is your recipient's email address, and our system will bypass spam filters to ensure they land in your recipient's mailbox.
Sending hundreds or thousands of digital checks electronically is done simply and instantaneously, all while being able to monitor in real-time receipt of payment via the Checkissuing dashboard or API.
The client user interface is as intuitive and simple as it gets. Checkissuing handles authentication using Plaid, a platform integrated with 15,000+ US Banks. All you need to do is log into the Plaid dialogue box just like you would your bank's webpage or app, fill out a few of the requested fields, and you are instantly set up or get sent micro-deposits into your bank account to confirm the next business day if you prefer.
While paper checks are among the most widely accepted payment methods currently available and are preferred by many, the process of loading check stock into a printer, printing, signing, stuffing, stamping, and mailing them is costly and inefficient compared to sending digital checks, which have zero hard costs to create and send, as well as a much better impact on the environment.
ONLINE DIGITAL CHECKS FEATURES
Digital checks are different from traditional ones since they work with accounts that may not be ACH enabled, i.e., Money Market Accounts and Small Banks/Credit Unions.
Need to send multiple digital checks electronically, or would you like to send echeck instantly? Upload a CSV file with the name, email address, and amount for each recipient and hit send, or automate through the Checkissuing API, and those digital checks will be sent out through email. Send checks online swiftly and with ease.
No Physical Address Required. Send digital checks online simply, with just an email address.
Recipients instantly receive their digital checks through email, which can be deposited online, printed, or converted into a direct deposit. Checkissuings digital checks don't require the recipient to register, signup, or download an app.
Use the Checkissuing API to automate a digital check solution that works best for you and your customers. Send digital checks online seamlessly.
ONLINE DIGITAL CHECKS SECURITY
Safety and reliability are critical requirements when you want to send digital checks electronically. Checkissuing takes every measure to enforce the best security standards and practices. All sensitive data on our servers are encrypted and secured to ensure your customers' information remains private, thanks to our state-of-the-art security systems that follow payment standards similar to those established by financial institutions nationwide.
All digital check payment data is tokenized, data movement is encrypted, and all encrypted data is stored at rest.
Clients can securely verify their bank accounts instantly using their online banking credentials. This information is tokenized using secure bank APIs, and at no time are banking login credentials stored anywhere on Checkissuings servers or systems.
Checkissuing performs regular Type I SOC II compliance audits, the gold standard of software-as-a-service data security. SOC reports aren't legally mandated; they're paid for at company expense and audited by a third CPA Firm.

Recipient security features include:

SMS authentication code is sent before the payment can be accessed.
Password is required before the payment can be accessed.
ONLINE DIGITAL CHECKS POSITIVE PAY PROTECTION
Positive Pay is a business process designed around coordinating with the client's issuing bank in order to help prevent check fraud. It consists of submitting files to the bank that contain issued check information such as the check number, issue date, and amount. When you send electronic check, the bank compares the data on the digital check to the information provided by the client. If the digital check information contains any discrepancies compared to the subject file, the digital check is set aside as an exception for the customer to review for accuracy.
This process prevents altered digital checks from being cashed using a stolen account number or a blank or "washed" check. It also prevents the payee from altering the digital check amount or other vital information. Whether you are sending out 10 or 100,000 digital checks, your business will surely value the simple, straightforward process Checkissuing offers for efficiently and securely sending your digital checks out through email.
Automated or Manual Positive Pay File-Upload system - Checkissuing offers clients a system that allows them to provide their bank's positive pay format to CI. The system can also automatically upload the files to the client's bank or make the positive pay file available for download so the user can upload it to the bank themselves.
SECURE ENCRYPTED ADMINISTRATION SYSTEM
Our administration system and/or API allow you to securely upload and process your bulk or single digital check payments, access reports, set permissions, and much more, all instantly through your mobile device, desktop, or tablet. From invoice processing and approval to scheduling payments to running reports, the dashboard offers the ability to process thousands of payments with just a few clicks. Digital checks are remitted in your chosen payment methods without the need to log in to additional portals.
Upload your CSV files online to be processed using our Secure EV-SSL 128-bit encrypted file upload system through our administration system or automatically through our modern API. With our robust security protocols, verified through our SOC Audit, you can rest assured that your financial information will not be compromised.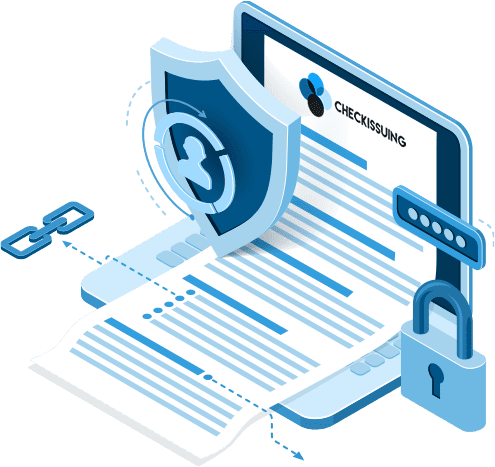 CHECKISSUING DIGITAL CHECK WHITE-LABEL SYSTEM
Checkissuing can customize and white-label the entire digital check customer experience, including:
Text in email
Email address
Portal domain
Check background image
Terms and Conditions text
# of times permitted to be downloaded.
Payment options
Customizing and branding the process the customer goes through to honor the digital check payment, strengthens your branding and prevents the potential of any traffic leaks.
TRACKING
Have full visibility on the following information in the form of timestamps:
When the digital echeck has been sent to the recipient.
When the echeck has been accepted by the recipients email provider.
The sections of the echeck that were accessed and/or downloaded.
As well as location information on the area the digital echeck was accessed from.
PLATFORM INTEGRATION, PAYMENT INNOVATION
Over 92% of businesses still prefer to pay vendors and suppliers by check, even though check fraud targets over 70% of businesses. Checkissuings online digital check service lets your customers go paperless, marrying all the familiarity of traditional business checks with the safety, speed, and security of modern payment technology—all from within one combined business solution, with no postage costs.
INDUSTRIES THAT CAN BENEFIT FROM USING DIGITAL CHECKS
Below are some of the industries that can benefit from Checkissuing's ingenious and safe digital echeck solution:
Education
Using digital checks can greatly benefit schools, universities, and other educational institutions. Since digital checks provide an efficient, safe, and faster way to process payments, they can help improve cash flow management while minimizing processing costs. Educational institutions can also use digital checks to comply with the Federal Reserve Regulation and other industry regulations.
Real Estate
Most real estate transactions involve an excessive amount of money, and using conventional paper checks can be costly and time-consuming. A digital check can be a convenient and quicker way to transfer funds. It also eliminates the risk of fraud. Title companies, property management companies, and real estate agents can benefit from Checkissuing's online digital check service.
Retail
Brick-and-mortar stores, e-commerce companies, and other forms of retail businesses can also use digital checks to their benefit. Aside from being straightforward to use, digital checks can also help improve customer satisfaction.
Finance
Credit unions, banks, and other financial institutions are now using digital checks to reduce costs and streamline the processing of payments. Financial institutions can also use digital checks to comply with the regulations in the industry, such as the Check 21 Act, which enables the processing of checks electronically.
Government Agencies
Many local municipalities, tax authorities, and other government agencies are now using digital checks to ensure the efficient and secure processing of payments. Aside from ensuring government agencies can comply with industry regulations, digital checks can also keep processing times to a minimum.
Healthcare Providers
Traditional paper checks can be a source of frustration for providers and patients, especially those that deal with complex payment systems. The use of digital checks can help streamline the processing of payments and ensure everything is done quickly and efficiently. Using digital checks in dental practices, hospitals, and insurance companies has undoubtedly been a massive game-changer.
NEXT-GENERATION DIGITAL PAYMENT TECHNOLOGY
Checkissuing provides you with the safest, easiest, and fastest way to send a check online—all you have to do is click "Send." Your recipient's digital echeck is instantly delivered! Our digital echeck solution combines everything you love about checks with the speed and ease of email.
We offer the perfect online payment solution for enterprise businesses that execute a large number of digital echecks each month:
Send hundreds, thousands or hundreds of thousands of digital/echeck payments in just seconds
Streamline processes, reduce costs and improve cash flow management
Integrate quickly and easily into your current processes using our full-featured API and Integration Support
For over 14 years, Checkissuing has been providing best-in-class payment solutions to both major and small businesses. Digital echecks are the next evolution, offering security, control, ease and flexibility unmatched by other popular payment methods.
Frequently Asked Questions
A digital check is sent electronically, which can be cashed the same way as standard checks, without the costs of USPS First-Class postage. Also known as an electronic check or echeck, digital checks are commonly used for bill payments, online purchases, and other electronic transactions. Using digital checks is also considered a secure and convenient way to transfer money from one bank account to another.
What are the benefits of using a Digital Check?
One of the primary benefits of using a digital check is it can be sent instantly without the costs of USPS First-Class postage. Using digital checks is also secure, convenient, cost-effective, and accessible. In essence, using digital checks can simplify the payment process significantly.
How can you send a Digital Check?
A digital check can be sent online over email to the recipient, who can cash it in an ATM with a bank teller or by using the bank's image capture software on their smartphone. You just need to provide the payee's name, email, and dollar amount for payment transactions.
How long does it take to deposit a Digital Check?
The time needed to deposit a digital check can vary depending on the recipient's bank and policies. Typically, it can take a business day or two for the digital check to clear and for the fund to be successfully transferred to the recipient's account.
Why is a Digital Check better than a paper check?
Digital Checks are similar to paper checks; only they can be sent to the recipient instantly. Digital checks are also more secure since they cannot be stolen or lost in transit. Plus, they are cheaper to process since there's no physical cost for printing and mailing the check.
How are Digital Checks secured?
Digital checks are secured through authorization, authentication, and encryption. Typically, digital checks are stored in an encrypted and protected database to avoid modification or unauthorized access.
Why choose Checkissuing Digital Check Solution?
Checkissuings Digital Check Solution is a secure, instant way to pay your recipient at a low cost compared to paper checks. With Checkissuing's digital check service, sending digital checks has never been easier!
CONTACT US TODAY
Contact us today to get a demo and find out how we can help with your printing and mailing needs!